When we have finished your conversions, we send you your old reels back for you to dispose of. However, instead of just throwing them away, why not get creative and upcycle them? In today's blog, we're looking into some of the creative uses for your old cinema reels.
Here at Cine2DVD, we help people all over the UK to convert their old cine film to DVD format. There are many advantages to choosing to do this, from keeping your memories safer and more secure to being able to share your files easily. Another benefit of 8mm film conversion or transferring 16mm film to digital is that you free up space that was previously taken up with big, clunky spools and film. The footage from many of your cine films can fit onto one compact disc, helping you to declutter your home, as well as benefit from the advantages of converting your cine film to DVD format. Let's take a look at what you can do with your old cinema reels when we've sent them back to you after their conversion.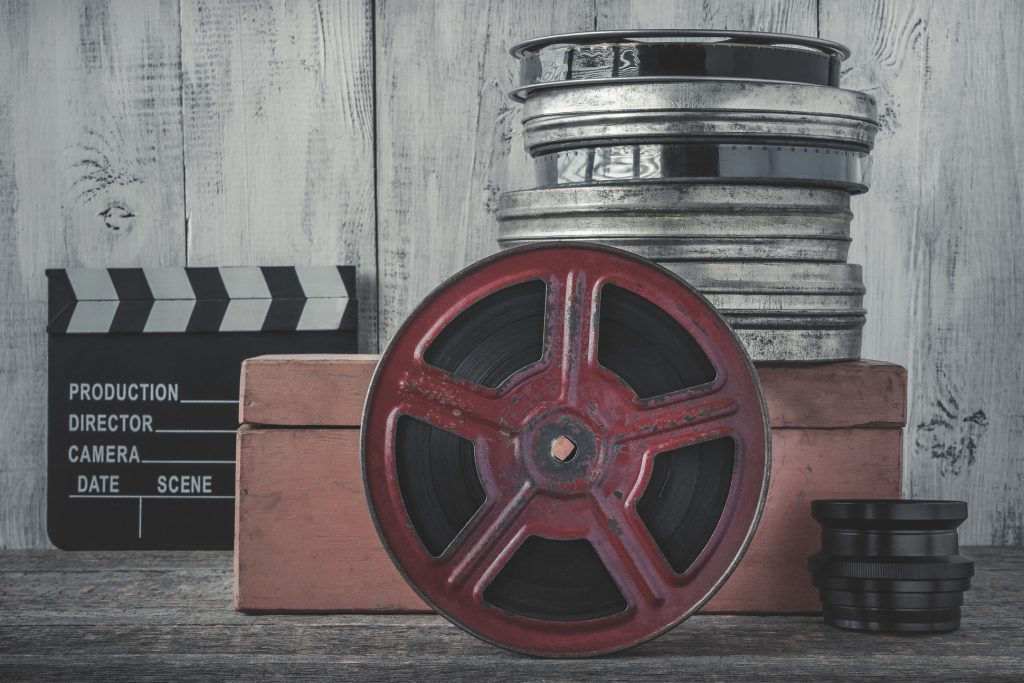 How to Turn Your Old Cinema Reels into a Working Clock
If you're looking to add a Hollywood touch to your home in a simple yet effective way, then this craft is the perfect choice for you. The cinema reel already resembles a clock face, so you can quickly see how we got this idea. To turn your reel into a clock, you will need:
Your old film reel, whether that be from your 8mm or 16mm film conversion.
A clock movement.
A Forstner drill bit – the size needed will depend on the width of your clock movement.
Craft glue.
Spray glue.
Decorative paper of your choice. This will act as the clock's background, so choose something that goes well with your existing décor.
A craft knife.
Once you have gathered everything you need, separate the reel from the can and set it aside. From there, you need to drill a hole into the middle of the base of the can. Using the base as a template, cut out a circle of your chosen paper the same size, spray with glue and stick it firmly to the base.
Use the craft knife to cut a hole in the centre of the paper that matches up to the hole you drilled earlier. Glue and place the reel back into the can's base and let it set for a good few hours. The clock movement should come with its own set of instructions, so make sure to follow them accordingly.
You'll need to separate the clock arms and then insert the clock movement from the back of the can through the hole. Glue this in place and let dry for a few more hours. Once it has set, you can re-attach the clock arms, and you're done! You've got yourself an interesting, unique piece of art that functions as a working clock.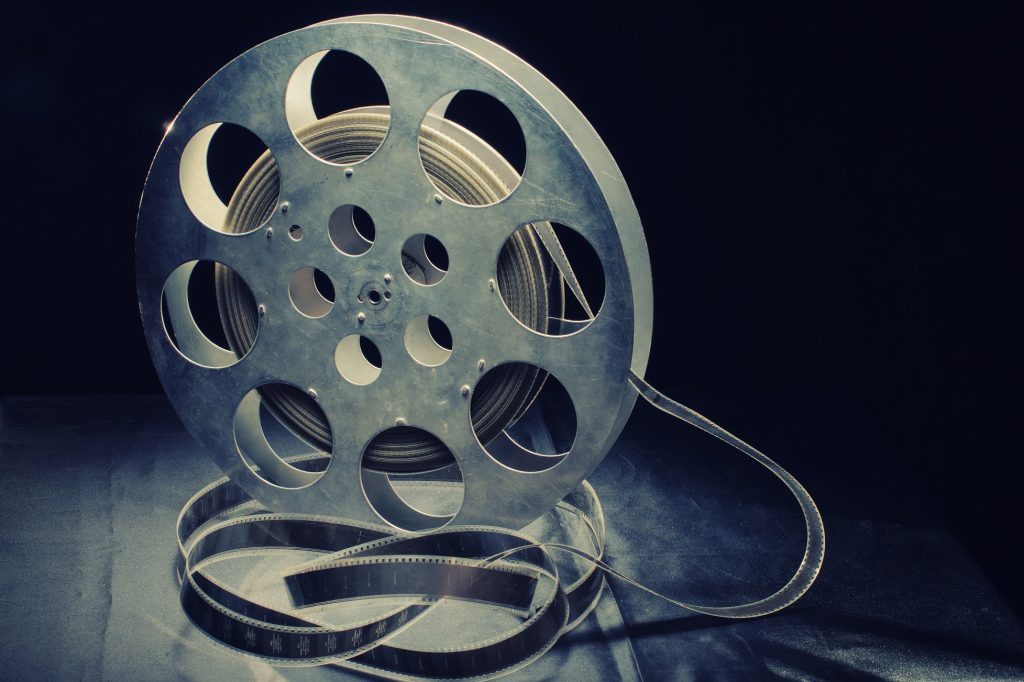 How to Turn Your Old Cinema Reels into Outdoor Planters
If you're looking for something a little easier, this is a fantastic idea for those who want to utilise their old cinema reels but don't fancy getting the drill out. There are two ways to turn your cinema reels into outdoor planters – the first is by hanging them on a wall or fence, let's take a look. You will need:
Your old film reels.
Plant pots that fit into the holes in your reel.
Picture hooks and nails.
All you need to do for this simple craft is attach the picture hooks to the back of your cinema reel and hammer in the nails to your fence or wall, depending on where you choose to hang it. From there, simply lift and place the reel and slot in the plant pots. Make sure that the soil isn't spilling out as the plant pots will be lay on their side. You can do this by ensuring the soil is damp and is filled only halfway, not to the top of the pot.
Another way of doing this is simply by placing the plant pots into the holes in the cinema reel and laying the reel on the floor. You don't need any additional attachments, just remove the can from the reel, put the pots in and there you have it.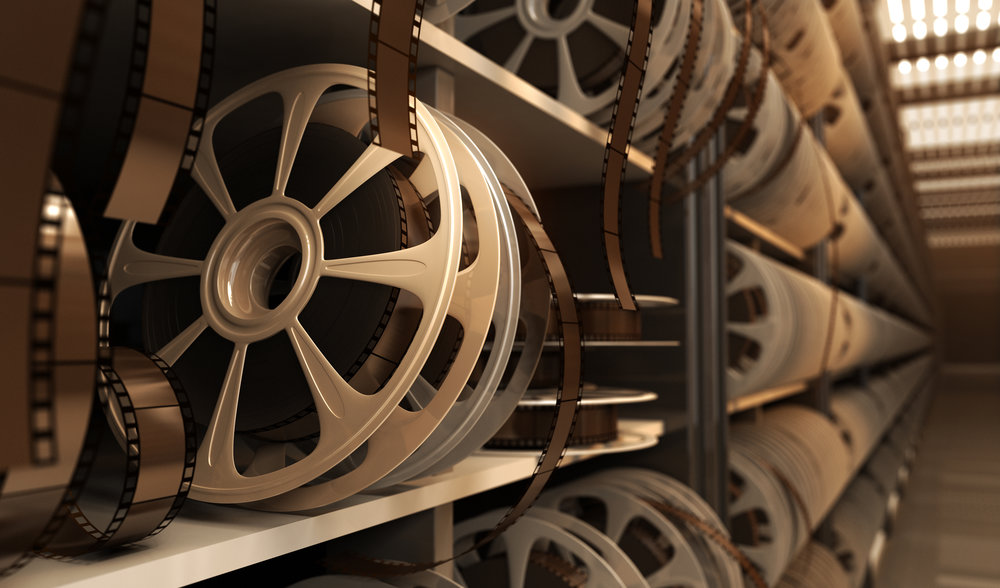 How To Turn Your Old Cinema Reels into Movie-Themed Art
Finally, get creative in any way you see fit by transforming your cinema reels into movie-themed art for your home cinema. There aren't any rules or instructions for this creative craft, just get stuck in! Here are a few of our ideas to help you get started:
Separate the reels from the can and arrange them on your wall with your favourite movie posters to add a unique twist to your décor.
Place a lamp behind the reels to create some cinema-themed lighting in your home.
If you have multiple reels, leave them how they are and stand them up on a coffee table or shelf – it's that easy.
If you have old cinema reels just lying around your house, we hope that this has inspired you to get in touch with us to transfer film to digital. All your precious memories will be safe and future-proofed, and you can relax and get stuck in with some unique, interesting crafts to add a cinematic spin to your home's design.